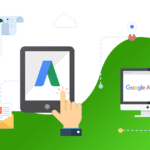 Types of Google Ads
Show your ads to people at the exact moment when they search for your product or service.
Google Ads is not just limited to text-based search ads. We can use  graphic display/banner ads, YouTube video ads, or in-app mobile ads to reach your target customers. Find more about each ad type below.
Search Network – Text Ads
People search for products or service on Google
Their search term matches your keyword
Your ad will be displayed to them.
They will click on the ad and reach your website
They will complete an action like purchase, fill the enquiry form or sign-up for your service
You only pay when someone clicks your ad and visit your site
Display Network – Text Ads, Image Ads (Banner Ads), Video Ads & Rich Media Ads
Google Ads display network helps you to advertise on popular websites with text and banner ads next to content that is relevant to your product or service.
Your ads will be `shown on web pages that has content related as your selected keywords.
You can also target selected specific sites, topics, interests and demographic groups.
Run ads on sites like YouTube and major newspaper portals.
With Display Ads you can sell more products or services, build customer loyalty & increase brand awareness.
Remarketing – Text & Banner Ads
Remarketing or retargeting will help you to reach past website visitors and app users.
Using remarketing with customized ads will produce maximum results.
There are different type of remarketing – Display, Remarketing lists for search ads (RLSA), dynamic remarketing, video remarketing and remarketing for mobile apps.
Gmail Ads
You can engage with millions of Gmail users with Gmail Ads.
Email is a big part of everyday life. Showing relevant ads on Gmail to your potential customers is a great way to increase your advertising reach.
Targeted interactive Gmail ads can produce great results.
Multiple targeting options are available, like keywords targeting or domain targeting.
App promotion ads
Promote your mobile app and drive app downloads.
Use universal app campaigns, mobile app installs campaign or mobile app engagement campaign as per your requirement.
Dynamic Search Ads
Dynamic search ads automatically target relevant search queries based on your website content.
It is a great great way to generate incremental traffic and great return on investment.
Video ads on YouTube
Using videos in your marketing can give massive lift to your conversion rates. The combination of sight, sound & movement can present a story for customers and prospects that words just can't express. Increase brand awareness, generate more leads and sell more products with video advertising.
And the most important factor – the reach of your ads. Engage your potential customers on any device. Be it computer, tab or mobile devices. YouTube has a variety of targeting options that can help you reach the right customer for your business. You can target by age, gender, location, interests and more.
Shopping Campaigns – Product Listing Ads
If you have an e-commerce site and interested to sell products online, this is the ad type for you.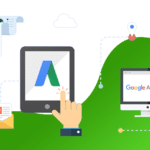 Reach the right customers at the right time with the right type of ad
The selection of the type of ad and channel will be based on your marketing requirements and campaign goals. We will select the best ad and channel option, which will be suitable to reach your potential customers. Based on that selection your ads can appear in search results, on other display partner sites like newspaper portals or YouTube, and on any device that your customer uses like desktop computers, tablets or mobile devices.
Copyright
©
2019 Digital Ferry. All rights reserved.